FAQ - High Temperature Powder
<< Back to Powder High Temperature Paint.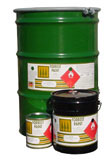 Q1: Can I coat the inside of my BBQ with any of your products?

A: Our coatings are not recommended for any cooking or food preparation surface. The cooking surface on most BBQs, is either stainless steel, cast iron or porcelain enamel. Our products are decorative coatings designed for use on hoods, carts & tanks and not intended for food contact.

Q: I like the look of your veined products, can they be used outside?

A: Yes they can, although due to the deep texture they offer limited corrosion protection. We recommend that a clear topcoat be used to help protect the coating from rusting and UV light.

Q: On your data sheet I see the high temperature powders need to be cured for 20 minutes at 450°F. My oven only goes to 375°F; will it still cure if I leave it in longer?

A: No, this is a siliconized product, and it is imperative that the substrate gets to a minimum of 435°F, for 20 minutes for full cure.

Q: Can the high temperature powder products be cured "in service"?

A: No, they must be cured through a specific process used by manufacturers and powder recoaters.

Q: Can I get a custom colour in the high temperature powders?

A: Please contact a representative for information on custom colours. Minimum order quantities apply.

Q: Why do you send the high temperature powders next day air during the warm months of the year?

A: These powers are highly sensitive to temperature. They will harden in the box if exposed to temperatures above 80°F for extended periods of time. For orders of 100 Lbs or more refrigerated freight service can be arranged.

Q: Why should I buy the muffler coatings instead of your normal high temperature powders?

A: The muffler coatings have been designed to offer better protection from "thermal shock" and corrosion than our standard high temperature powders. These powders have been developed and tested to meet OEM specifications.